Hey, are you ready for your Erasmus in Budapest?
How could you, right? Well, we will be here helping you through this journey, by several events. As every semester, ESN Corvinus starts with an opening week, the Landing Days held for their Erasmus students. It's right before Orientation week, at the second part of August/January. What is this good for? If you don't have a flat yet, or need one more flatmate, maybe just want to visit some pubs and clubs with your future classmates - this is your chance!
Following the Landing Days, we will meet on the Orientation Week. During the week we have various programs (sightseeing, bath visit, beerbike etc.) and on Thursday, we will have the Orientation Day and Evening.
International Picnic
Attention Foodies! At the beginning of each semester we organize a magnificent night where you can not only show off your cooking skills but also introduce us the gastronomy of your country. And of course, try new, exciting dishes of other cultures! The International Picnic is a tradition in ESN and we guarantee that you are going to amazed by it, so if you want to show the world how the food in your country tastes like or you have amazing beverages everyone needs to try, make sure you bring them with you and participate!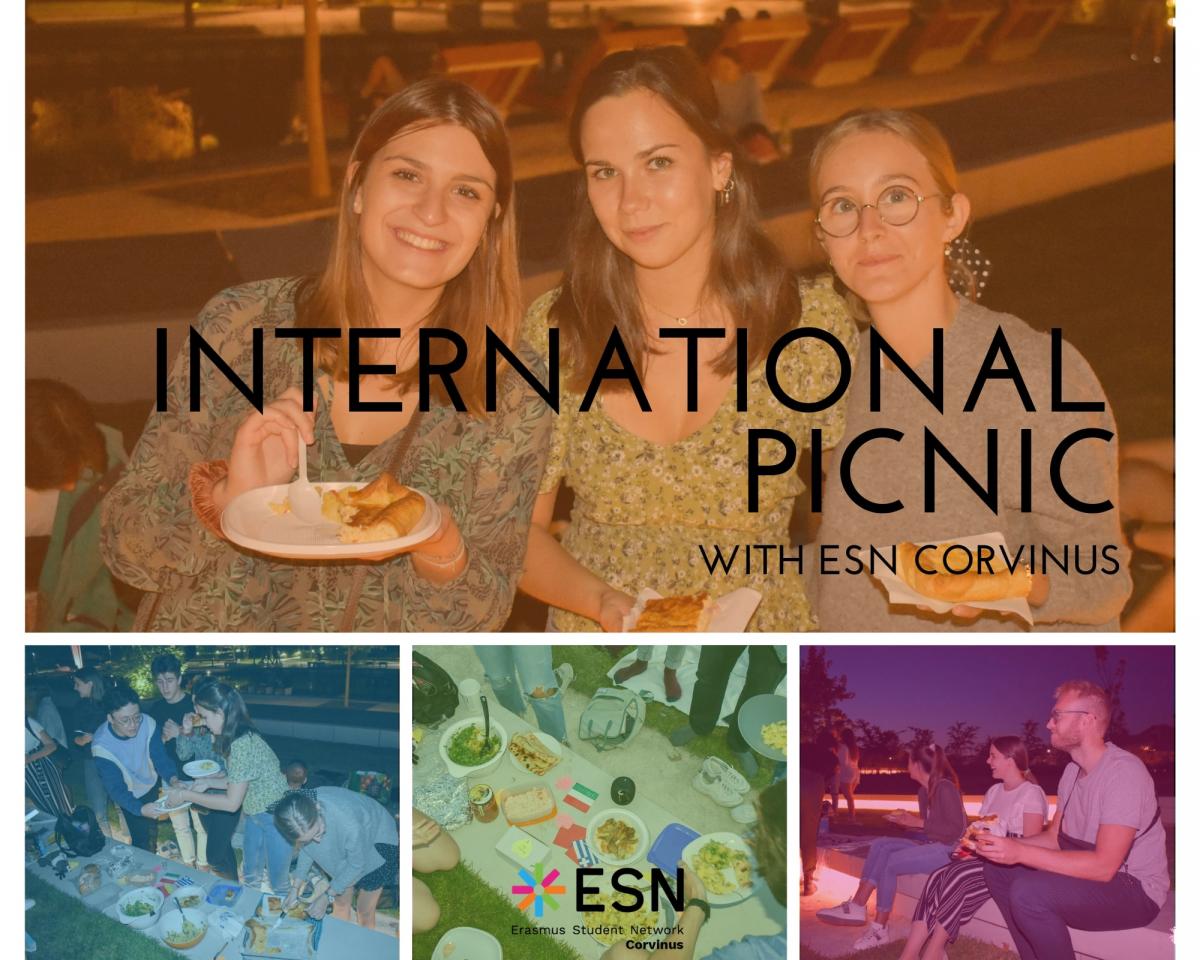 Day Trips
Hungary is a truly hidden-gem in the heart of Europe, and it's much more than just Budapest.  For this reason ESN Corvinus dedicated itself to show you the Hungarian countryside as well! From time to time during the semester we are going to organize you Day Trips, when we will hop on the train in the morning, then show you around in specific town and later that day we will return to the capital. In the Spring semester 2021 the Days Trips will feature Sopron – the Town of Loyalty, the breath-taking Danube bend with Visegrád, and Esztergom, where we will visit the Basicilica – the biggest church of the country!​
Picnic in Etyek
Have you ever wondered how the Hungarian wine regions look like? Fortunately, you can see it for yourself close to Budapest and check the Etyek-Buda wine region on the Etyeki Piknik with the ESN Budapest United. The picnic is held four times every year, once in every season and all of them have a unique vibe as going from cellar to cellar feels different and have their own charm in the winter, spring, summer or fall one as well. During the picnic, various vineries open their doors for the public and you can taste their wines, pálinkas or whatever you prefer and you can try some Hungarian dishes too. The ESN sections of Budapest have decided to join and visit Etyek during this event, so you can go and enjoy the company of international students also from other universities, while tasting the wines of the region and spending a nice day together.
​